It's refreshingly healthy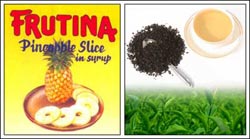 The aroma of tea and the taste of fresh fruits, all brought to you by Hindustan Fruit Processing Works. Ours is a proficiently managed company, manufacturing and supplying wide assortment of products. Our products are extensively popular for its unmatched quality. We are distinctly reckoned amongst foremost nutritional Canned Fruit Products and Green Leaf tea suppliers.

With each new industrial modernization we have improvised our infrastructure to keep pace in the competitive market, living up to the vision of the company and expectations of the customers. We have always envisaged our accomplishment on customer satisfaction. With this vision we offer to our clients across various establishments, an extensive assortment of products which are made of high quality. Also quality checks are carried out at various stages to guarantee that the best products are sent to the market.